Esbit has been producing solid fuel for the outdoor minimalist since 1936.
72 years later, the company introduces an almost complete solo hexamine cooking system: A 720 ml titanium pot with a lid and a (very familiar) folding titanium solid fuel stove. Add a titanium foil windscreen and you're good to cook fast and light.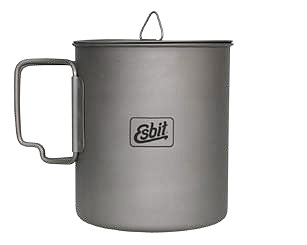 Photo: Esbit 720 ml Titanium Pot / With permission from Esbit / Author unknown
WHAT'S NEW AND INTERESTING?
720 ml (24 fl oz) "cook in a cup" titanium pot
titanium lid
foldable handles
107 g (3.8 oz)
Perhaps even more interesting is the fact that being an Esbit-branded product, Europeans will most likely be able to get the pot at their local backpacking store selling the familiar Esbit tabs. No more trans-oceanic shipping charges and customs' duties!
SPECIFICATIONS AND FEATURES
Manufacturer: Esbit (esbit.de)
Model: 720 ml Titanium Pot
Year: 2009
Materials: titanium
Main features: a perfectly sized, solo, "cook in a cup" titanium pot with a lid
Height: 11 cm (4.3 in)
Diameter: 10 cm (3.9 in)
Volume: 720 ml (24 fl oz)
Weight: 107 g (3.8 oz)
AVAILABILITY
Should be in stores beginning 2009.
MY QUESTIONS AND DOUBTS
Nothing I can think of right now.
I sure need to test this Esbit pot and compare it to my Snow Peak 600 ml cup for a complete review.
ALTERNATIVES
May Lim / 2011-07-23 08:36
Does your Titanium cup mafe of pure Titanium? or Titanium alloy?
May, the cup is not mine, it's made for Esbit. I doubt it's pure Ti, but you could ask them directly.
ABOUT ANATOLY IVANOV / PROSE
Find out more about my posting and comments policy, as well as publishing frequency and copyright issues.