BackpackingLight.com has introduced its Titanium Esbit Wing Stove a while back… End of 2005?
Currently named the "FireLite Titanium Esbit Wing Stove", these 11 grams of compact engineering and sturdy support offer the best solid fuel cooking solution available off-the-shelf. I've been using this stove since 2006 and highly recommend it.
Now, imagine my surprise when I noticed the exact same stove at the Esbit booth during the European Outdoor 2008 show in Friedrichshafen!
Same titanium. Same design. Same dimensions. Same weight! The only difference: the Esbit logo.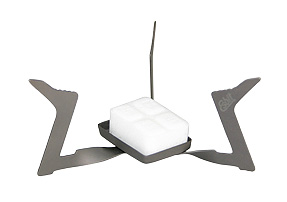 Photo: Esbit Titanium Solid Fuel Stove / Used with permission from Esbit / Author unknown
WHAT'S NEW AND INTERESTING?
A superb 11 g (0.38 oz) hexamine solid fuel stove of proven design will be distributed by Esbit.
Which means Europeans will most likely be able to get it at their local backpacking store selling the familiar Esbit tabs. No more overseas shipping charges, currency exchange commissions and customs' duties!
SPECIFICATIONS AND FEATURES
Manufacturer: I don't know yet, but it's distributed by Esbit (esbit.de)
Model: Titanium Solid Fuel Stove
Year: 2009
Materials: titanium
Main features: an ultralight, folding, compact, durable and sturdy solid fuel stove that works equally well with small cooking cups and bigger 1 liter pots
Stove height: 4,7 cm (1.85 in)
Maximum pot support diameter: 11 cm (4.3 in)
Minimum pot support diameter: 7,5 cm (2.9 in)
Height between fuel tablet holder and pot bottom: varies from approximately 3 to 3,5 cm (1.2 to 1.4 in), depending on the pot diameter
Weight: 11 g (0.38 oz)
AVAILABILITY
Scheduled to hit the shops in January 2009.
MY QUESTIONS AND DOUBTS
Well, the most obvious question is how come Esbit will distribute exactly the same stove as that made by (for?) BackpackingLight.com? With an Esbit logo on it?
I am talking both to Esbit and BackpackingLight.com to find out.
ALTERNATIVES
In my opinion, whatever the logo, Esbit's or BackpackingLight.com's, this is the solid fuel stove. Get it!
ABOUT ANATOLY IVANOV / PROSE
Find out more about my posting and comments policy, as well as publishing frequency and copyright issues.