So you're looking for a rugged navigation unit that'd help you in the outdoors, in the middle of nowhere or in the middle of a mega-city. A dedicated GPS receiver. Something that would survive hiking and cycling. Sun and rain. Sweat and snow.
Let's see what Garmin has to offer. A huge choice! But let's trim it to the mapping / routable GPS units, the ultimate in navigation luxury.
2 Garmin models stand out: the Oregon and the Colorado.
I've played with both at the Friedrichshafen Outdoor show in July 2008 and then posted my initial preview. Hoping I'd waited enough for the beta-bugs to disappear, I got a Colorado 300 and an Oregon 300 in the first days of March 2009 and have tested them extensively till mid-May 2009.
Both units can do a lot. Driving, cycling, hiking, sailing, fishing, hunting, training, geocaching, weather trending, calculating, even waking you up and now taking pictures… Allow me to narrow the focus of my review.
DEFINE THE CONTEXT: NEEDS AND OPERATING CONDITIONS
When choosing a GPS unit, I'd suggest to first answer 2 questions:
what problems does the device need to solve?
in what conditions will the unit operate?
Ideally, the GPS receiver should solve your problems when and where you need it, in the most effective and efficient way.
MY NEEDS AND OPERATING CONDITIONS
I've tested the Oregon and the Colorado in 2 contexts:
1 / Road cycling
daily transportation
training rides
longer self-supported touring
GPS as the only bike navigation system for:

complicated city navigation in European cities
intercity navigation in Western Europe

clear skies and direct sunlight
cloudy skies
night
rain
open spaces
urban canyons
temperatures from -5° C (20° F) to +35° C (95° F)
opportunistic, omnivore battery power generation
2 / Hiking
day hiking
climbing approaches
photography location scouting
multi-day backpacking
GPS as a paper map complement, navigation aid in difficult situations in the European "wilderness" areas:

"humanized" forests' trail maize
white-outs and heavy snow
off-trail
night navigation

clear skies and direct sunlight
cloudy skies
rain
snow
open spaces
mountains
dense forest
temperatures from -30° C (-22° F) to +35° C (95° F)
opportunistic, omnivore battery power generation
So, how do the Oregon and Colorado answer my precise needs and perform in those conditions?
FORM FACTOR
// Size
Both the Oregon and the Colorado are big. And fat.
Photo: Garmin Oregon 300 handheld in direct sunlight (no backlight)
Yes, Garmin has definitely improved upon the GPSMAP 60CSx… But compared to contemporary gadgets? The Nokias, the iPhones and the iPods? What's taking all that space inside?
Photo: Garmin Colorado 300 handheld in direct sunlight (no backlight)
The Oregon is smaller than the Colorado, but not by much. It's basically the Colorado without the antenna and the thumb wheel.
// Weight
The Oregon is a bit lighter than the Colorado. Both are far from anything feathery. Do you remember the Garmin Gecko days?
As measured on my electronic scale (1 g precision):

Garmin Oregon 300

Garmin Colorado 300
Empty:
146 g (5.15 oz)
167 g (5.9 oz)
With 2 AA
rechargeable NiMH:
205 g (7.2 oz)
226 g (8 oz)
// Build quality
The Colorado feels like a tank: solid, no squeaks.
The Oregon inspires less confidence. The battery cover of my Oregon 300 squeaked and moved 1 mm when pressed. Garmin has reassured me that it's normal. The plastic cover contacts the rubber seal around the battery compartment. When compressed, the rubber gives in a little, but it does not compromise the unit's IPX7 waterproofness. As an advantage, the cover is much easier to remove than on the Colorado: changing batteries is simpler.
// Weather resistance
According to Garmin, both the Oregon and the Colorado will drown but will remain alive for 30 minutes at a 1 meter depth, as per the IEC 60529 IPX7 standard.
I've ridden both units in torrential, sustained downpours, for hours. No problem. Keep on riding.
However, I haven't checked the IPX7 compliancy in a bathtub.
What about low temps? LCD displays tend to slow down in subfreezing conditions. The lowest I could take the units was a balmy -10° C (14° F) in the Alps. No effect on performance.
// Handheld
I'm thankful I can hold each unit with just one hand and operate the functions with my thumb. But still, I would expect something more compact these days. Both units feel like supersized soaps.
// Bike mounted
The Oregon and the Colorado share the exact same rail-mount. A Garmin plastic adapter attaches either to the ahead stem (lengthwise) or to the handlebars (crosswise) with 2 nylon zip-ties. A rubber insert is supposed to keep the mount in place.
Photo: Garmin bike mount (next to stem) compatible with Oregon and Colorado GPS on a Brompton
When mounted on the handlebars, both units rotate downwards after a series of bumps, no matter how much I tighten the zip-ties. I'll try to find some narrow, screw + metal band hose clamps and see if they stabilize the mount.
The slide-in and slide-out process is cumbersome:

attaching lacks a positive feel: I have to double-check the unit is held securely
removal requires a fair amount of force to push down the retaining flap and release the unit
Photo: Garmin Oregon on a Brompton under indirect sunlight (backlight off)
USER INTERFACE
// Screen dimensions, resolution and color depth
The Oregon and the Colorado screens feature the same:
dimensions (3 inch diagonal)
resolution (240 x 400 px)
color depth (65 000 colors)
Both units provide detailed, smooth, full color imagery. Things look like on your notebook computer or desktop LCD display. Gorgeous and contemporary. In comparison, Garmin's GPSMAP 60CSx looks really antique, like the first cell phones with color displays.
// Screen technology
The Oregon and the Colorado use the transflective screen technology:
under brightly lit conditions, outside light – the sun – passes through the screen and bounces back to illuminate the pixels
under moderately lit conditions or in the dark, inside light – a lamp behind the screen, the backlight – illuminates the pixels
Ideally the system works in such a way that instead of fighting strong illumination from the outside with even stronger illumination from the inside, the technology lets the outside light source do the work. The backlight, which requires a lot of electrical power, is switched off to preserve the batteries.
The differences between the units?
Oregon's screen has additional layers of resistive touchscreen technology on top, with a diffused, matte finish, similar to the old-school notebook computers and PDAs
Colorado's screen has a high-gloss, mirror-like finish, similar to the current MacBooks
// Screen performance
A bright, easy-to-read display is crucial in the outdoors. What's the use of a high-tech mapping GPS if you can't see where you're going?
Unfortunately, both Oregon's and Colorado's screens are dim. Very dim. As in "hard to see".
I was aware of the problem, reading reviews on the web and listening to friends' feedback. But I wasn't expecting it to be that bad.
direct sunlight
Thanks to the transflective technology, both the Oregon and the Colorado are quite readable in direct sunlight, the Colorado doing about 5% better.
Photo: Garmin Oregon (left) and Garmin Colorado (right) in direct sunlight (backlight off)
indirect sunlight
If the sun isn't shining directly on the screen and bouncing back into your eyes, as, for example, in the morning or evening due to sun angles, both screens are dim.
Photo: Garmin Oregon (left) and Garmin Colorado (right) under indirect sunlight (backlight off)
No strong external light to pass through the screen and bounce back? Well, let's turn on the backlight. Unfortunately, the Oregon's and the Colorado's backlights are not powerful enough to compensate for the well-lit outdoors. Even if I switch the backlight to 100%, it barely makes a difference.
In cycling mode, the light pink used to indicate anything off-road looks exactly like grey asphalt.
In hiking mode, the problem is a bit less severe. You can tilt the units this way and that way and find a point when they're more readable. But it's still nothing like instant and clear read-out.
clouded
Without backlight, the Colorado is about 20% more readable under clouded skies than the Oregon. The Colorado shows more brightness and contrast. In part because it has a glossy, iPhone-like screen and in part because it doesn't have the supplemental layer of touchscreen technology on top. Still, there's not enough light coming through to make the screen easy to read.
With backlight, it's the opposite: the Oregon is about 20% more readable. Simply because the Oregon's backlight lamp is more powerful. To become readable on a lightly overcast day, the Oregon requires its backlight to be set at about 80%. Essentially a flashlight against the sky: the batteries go fast.
night
No problem, great displays.
Although both the Oregon and the Colorado lack a "night mode" used on most in-car GPS, including Garmin's and TomTom's, you can adjust the backlight to your liking and preserve a bit of night vision.
sunglasses
Everything above just gets worse. Screen readability vs glare discomfort, UV damage and flies in the eyes: you choose.
// What's the problem with these screens? What's the solution?
The Garmin GPSMAP 60CSx screen is quite readable in the outdoors without any supplemental backlight. Shouldn't the newer Garmin units be even better?
Unfortunately, the newness is the root of the problem. Garmin faces the resolution vs luminosity dilemma:
newer unit = higher resolution screen = more pixels = lower transmittance = lower reflectivity = dimmer screen but better picture
In order to draw the beautiful images on the newer screens (user interface, maps, compass, etc.), Garmin improves resolution. More pixels per square inch equals more optical definition, detail and subtler color gradation.
The screen holds a grid of pixels. Each pixel unit is like a window, a combination of a glass pane and a window frame. The "window frame" holds the pixel in place and transfers electrical current to the pixel. Light can pass only through the "glass panes", but not through the "window frames". With higher resolution, or pixel density, the "window frame" density grows as well, decreasing the overall transparency of the system. Result: a dimmer screen.
The solutions would be to:
make the pixels' "window frames" super-micro-tiny
make the pixels' "window frames" transparent
increase the backlight intensity to overpower the outside light
Solutions 1 and 2 would require some yet to be invented technology. Solution 3 would require either a more efficient backlight (such as LED) or much more powerful batteries. Of course, it's possible to work on the 3 solutions at the same time.
But, for now, you'll have to choose between either:
high resolution
OR
high readability / visibility
And it's not even a Garmin-only problem. Magellan faces the same challenge, as well as any manufacturer of electronic devices used outdoors.
// We forgot something: the ambient light sensor
Neither the Oregon nor the Colorado carries an ambient light sensor that would control the backlight! You have to manually press a button on the side / on the top and then adjust the backlight level.
Bearable when hiking. A pain when cycling.
Suppose you ride through the fields and the sun is shining. Great. But then you get under the trees, or, worse, into a tunnel. Reach out for the backlight button. Adjust. Then back into the fields. Adjust again. Or leave the backlight on. And drain the batteries in no time.
Even basic cell phones have ambient light sensors. The iPhone: of course. But not the Garmin's high-end GPS.
// Touchscreen vs buttons
OK, here's the big one:
Oregon's user interface is a touchscreen
Colorado's user interface is a combination of buttons and "Rock 'n Roller" input wheel (somewhat like on classic iPods)
Oregon's touchscreen
Garmin uses the resistive touchscreen technology in the Oregon: 2 thin sheets of electrically conductive material separated by a thin space. When something or someone pushes from the top, the layers touch and the system registers a "mouse click" in that area of the screen.
The touchscreen requires simple pressure to work. So far, I've used the Oregon with my:
fingers
nails
Assos winter cycling gloves
Outdoor Research Omni gloves
Versant Nord super warm, waterproof, 3 finger mittens
pen tops
Wacom stylus (both ends)
backpack belt's webbing ends
actually, anything that can bring the 2 layers together
and in all weather conditions:
under sustained rain
when snowing
in sub-freezing temperatures
Very reliable, quite amazing. Diffused all my initial skepticism.
The software interface is changed to work with the touchscreen. All functions have large, dedicated icons, the same as on the Mac or on the iPhone.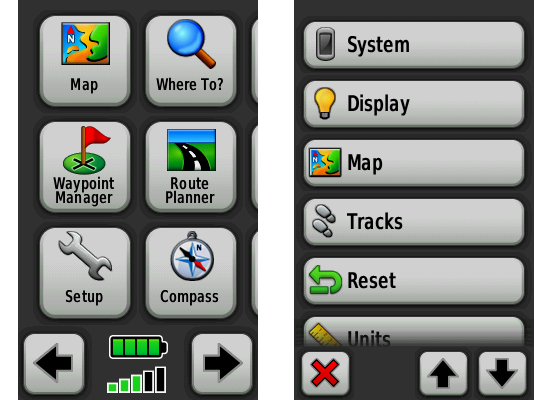 Screenshot: Garmin Oregon main menu (left) and setup menu (right)
Additional features appear as needed: zoom buttons, back button, contextual menus, scroll buttons, input areas, etc.
The Oregon feels natural and intuitive:
"click and drag" the map to see what's ahead, or just check the course: feels like a paper map
tap on the map to place a waypoint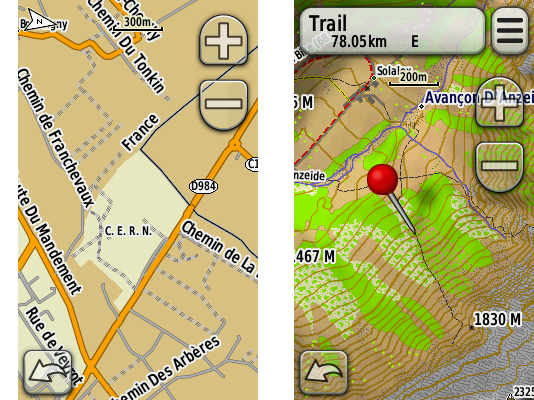 Screenshot: Garmin Oregon road map (left) and topographical map (right)
type on a virtual keyboard: although Garmin uses an alphabetical layout instead of the standard QWERTY, it's still super quick to type in a name of a street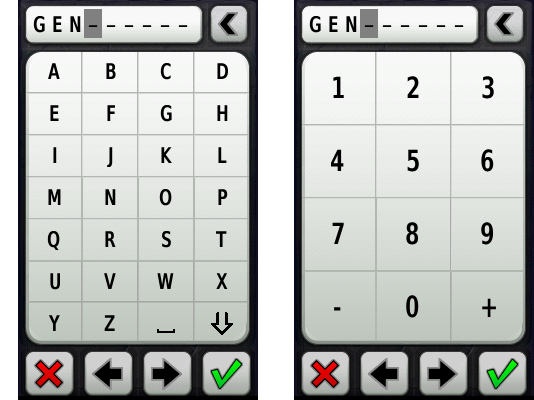 Screenshot: Garmin Oregon alphanumeric input methods
Well, it's not as magical as on the iPhone. The Oregon drops frames during animations here and there. The map takes some time to redraw. And the design lacks a bit of Apple's refinement.
Nonetheless, the Oregon's interface is a real pleasure to use:
hold the unit in your hand and quickly thumb through the options
pan the map with a thumb while hiking
tap through the menus to change the route while riding
point with the index finger to order the unit to get you there
The interface allows for extreme precision when placing waypoints or choosing objects on the map:
tap once in the area of interest (approximately)
a pin appears
"click and drag" the map with a finger
the map moves, but the pin does not
position the map's precisely under the pin, zooming in if necessary
check the readout from the pin and choose the options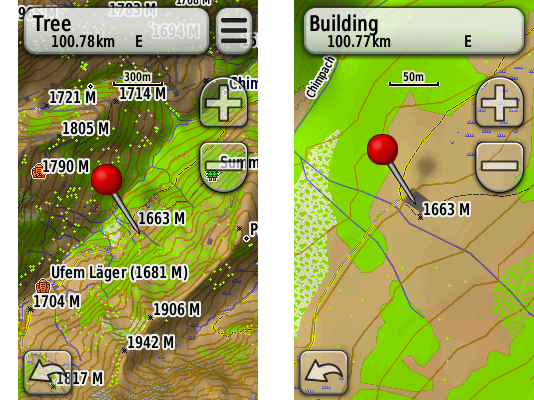 Screenshot: Garmin Oregon precise object selection on the map
Honestly, once you use it, there's no going back. Same as with the iPhone.
Colorado's "Rock 'n Roller" input wheel and buttons
When compared to the Oregon's touchscreen, the Colorado's interface is frustratingly slow and unintuitive:
Want to get to the main menu? Press the "shortcuts" button on the right. And watch the "icons on a wheel", a rather confusing graphical metaphor.
To navigate the menus, scroll with the wheel.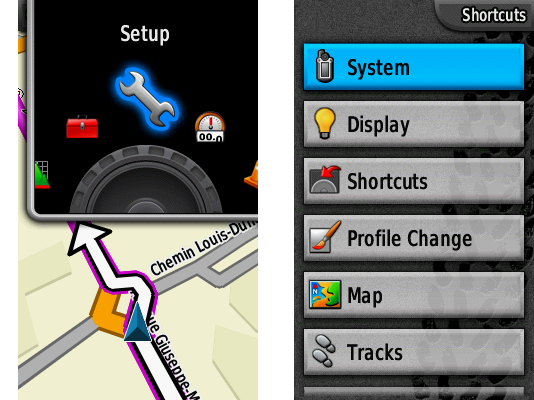 Screenshot: Garmin Colorado map with "shortcuts" button pressed (left) and setup menu (right)
Want to change something? Press the "options" button on the left.
Want to select an object? Push one of the hidden direction buttons to show a mouse cursor, then move it… slowly.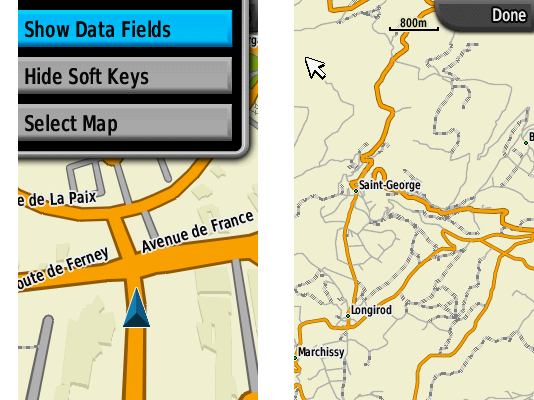 Screenshot: Garmin Colorado map with "options" button pressed (left) and object selection (right)
Want to go somewhere? Type in the street name. The whole alphabet spins around the input wheel. First letter: rotate the wheel through "A B C D E F G…" till the letter you want, confirm with the "enter" key in the middle of the wheel. Next letter? Repeat through the alphabet. Next? Repeat. A long street name? Keep on rollin'! Oops, too fast, too far, scroll the other way.
Want a low-case letter for your waypoint? Keep on turning. You'll get the low-case "a b c d e f g…" after we scroll the upper case "A B C D E F G… X Y Z"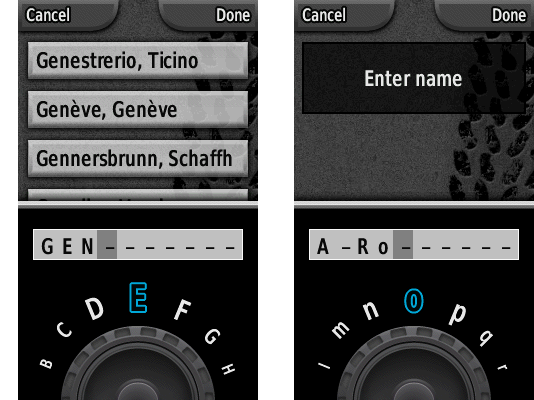 Screenshot: Garmin Colorado text input for upper case letters (left) and lower case letters (right)
Annoyed yet? Add the Colorado's "enter" button that has a tendency to ignore your commands. I push the button, I feel and hear the "click" but no action is registered. Press again. Works. Doh!
The only reason I thought Colorado's interface might be useful was for gloved use. Forget about it! Oregon's touchscreen is much, much more glove-friendly than Colorado's wheels and buttons.
// User-interface quirks
In simulation mode (GPS reception off), the Oregon and the Colorado always suggest to simulate "driving" a route… No matter if I've chosen a bicycle or my feet as my transportation device. The heritage of the American driving culture, I guess…
Waypoint names are limited to 30 characters! Less than a Twitter post. Amazing for a XXI century gadget. Even worse, the user-interface shows only the first 20 characters or so. And it can't scroll the long name horizontally like the primitive Nokias. So if you have a lot of waypoints, you'll have to resort to some naming system, using ISO country codes, for example.
There's no way to subdivide and classify waypoints or routes into sub-folders or live filters. The Oregon / Colorado 200, 300 and 400 are able to store 1 000 waypoints and 50 routes. The Oregon 550 expands the capacity to 2 000 waypoints and 200 routes. Now, imagine a list of 2 000 waypoints on a 3 inch screen… Yes, Garmin shows the closest waypoints first, and yes, you can search through, but what if you don't remember the name?
Neither the Oregon nor the Colorado provide orthographical approximation or spell-checking. Real-life example: downtown Geneva, Switzerland. Need to navigate to the "rue du Pré Jérôme". Street name given over the cell phone, just before the battery died. No written reference. Should I type that as "Pres-Jerome"? "No results found". "Pres Jerome" without a dash? "No results found". Just "Jerome"? Nope. I finally had to search for a hospital that I knew was nearby, then pan the map around and locate the street visually.
Both the Oregon and the Colorado don't know how to insert and type! Overtype only. Ugh… I mean, even the most basic cell phone can do that!
The Colorado forgets your backlight settings after you switch off the unit. Very inconvenient.
POWER SUPPLY
Both the Oregon and the Colorado use 2 standard size AA batteries of any type:
alkaline
lithium
rechargeable NiMH
Excellent! Very smart. No proprietary battery packs like in the Garmin's Edge 705. Or Apple's iPhone.
Want to charge your batteries with a solar panel? No problem. Want to swap the batteries with some other device? Here you go. Unplanned power shortage? Get a pair of AAs in any store, anywhere on the planet.
Whereas, a proprietary battery:
isn't widely available, so can't be swapped for a fresh one easily
will degrade one day and you'll overpay the replacement
might disappear from the market (planned obsolescence), making your GPS unit unusable
POWER USE (BATTERY LIFE)
Both units gulp down batteries. A 2-hour drive from Geneva to Goppenstein in Switzerland exhausted 2 fresh alkaline AAs (3D in-car view with backlight set to max).
To squeeze more juice:
switch to NiMH rechargeables (in my case, 2 700 mAh by GP Batteries)
ration the backlight (but you may get to a point where you won't see much on screen)
switch off the tracklog
choose the correct battery type in the unit's setup (so that the software can estimate the remaining charge precisely)
Battery life:
In cycling mode, for maximum efficiency (weight and bulk carried, distance and speed), you'll need to forgo the paper maps and keep the GPS switched on. I got max 12 hours of cycling out of either the Oregon or the Colorado. If you plan to tour with one of the units, plan to recharge every night if you have access to AC power, or exchange for batteries charged on solar during the day.
In hiking mode, both the Oregon and the Colorado can last quite a while if you keep the devices switched off and use them only in challenging conditions that I've described in the beginning of this post ("humanized" forests' trail maize, white-outs and heavy snow, off-trail, night navigation). Carrying and tracking a paper map for easy sections when hiking is more efficient than on the bike, because of the lower speed and shorter distance.
MAPS
A GPS receiver is almost worthless without a map. Sure, it could still help in 2 cases:
record your track and later help you follow the track back, for example, on a glacier to avoid the crevasses (use your brains and rope-up anyway!)
report your position to the rescue teams
It's the combination of a GPS receiver with a map that realizes the full potential of GPS navigation. In yester days, you would use a plastic GPS plotter to find your position on a paper map. Sometimes under pouring rain and strong wind. Nowadays, the exact same maps are available directly on the screen of the GPS receiver. Pure luxury, as long as you have some juice in the batteries.
// Why should you worry about maps when choosing a GPS unit?
Problem is, maps are intellectual property, same as music or movies. And most of mapping data is proprietary, DRM-protected, often tied to a particular brand of GPS receivers.
It's like with the FairPlay music bought from the iTunes Store before 2009. You could listen to these tracks only on the Apple's iPod.
So, before you choose a GPS unit, consider the maps available for it. And as with the choice of a paper map, choose carefully. Bad maps can kill you.
// What is a vector or pixel map?
A vector map uses mathematical equations that combine geometrical primitives (points, lines, curves, shapes or polygons) to represent forms and colors. You never see the pixels. Zoom in, zoom out: the image is rendered in real-time. Always crisp and beautiful.
A pixel map, on the other hand, uses a bitmap, fixed representation. When you zoom in, you loose resolution, when you zoom out, you also loose precision and sharpness.
When choosing a digital map, prefer the vector variant.
// Cycling maps
For urban navigation and intercity biking, a map made for cars works pretty well. 2 companies dominate the road maps market:
NAVTEQ, an American company (wholly-owned subsidiary of Nokia)
Tele Atlas, a European company (wholly-owned subsidiary of TomTom)
TomTom manufacturers in-car GPS navigation devices, and so is Garmin's direct competitor. As TomTom owns Tele Atlas, it won't sell you a map to use on a Garmin GPS. If you want a good road map for a Garmin, you'll have to buy NAVTEQ maps. Not much choice.
NAVTEQ / Garmin City Navigator Europe NT
I've been using the NAVTEQ's map of European roads compiled into a proprietary Garmin format. The map covers:
Albania (major roads only)
Austria
Belgium
Bulgaria (partial coverage)
Croatia (partial coverage)
Czechia
Denmark
Estonia
Finland
France
Germany
Great Britain
Greece
Hungary (partial coverage)
Ireland
Italy
Latvia
Lithuania
Luxembourg
Macedonia (major roads only)
Moldova (major roads only)
Netherlands
Norway
Poland
Portugal
Romania (partial coverage)
Serbia & Montenegro (major roads only)
Slovakia (partial coverage)
Slovenia (partial coverage)
Spain
Sweden
Switzerland and Liechtenstein
Ukraine (major roads only)
I've totaled about 1 500 km (932 mi) with this map in the Geneva, Vaud, Fribourg, Neuchâtel, Bern and Valais cantons of Switzerland, as well as in the Ain and Haute Savoie departments of France. Part of that mileage was done on a car with a TomTom also onboard. I wasn't driving. I was in the side seat, comparing the 2 systems.
The City Navigator map has zero bike-specific information. Switzerland is a rather bike-friendly country, with thousands of kilometers of bike lanes and one-way streets open for two-way cycling. None of this is on the map.
In general, I've found NAVTEQ / Garmin's maps to be less up-to-date than Tele Atlas / TomTom's. For example, on the Place des Nations, a major square in front of the United Nations in Geneva, NAVTEQ advises a left-turn where it's forbidden by a sign and simply dangerous. I guess the mapmakers initial focus – USA for NAVTEQ / Garmin and Europe for TomTom / Tele Atlas – partially explains the slight differences in data quality.
The NAVTEQ map display on the Oregon and Colorado units, as well as in the Garmin RoadTrip and MapSource software lack any indication of one-way streets. No blue arrows like on the GoogleMaps provided by Tele Atlas. Oddly, NAVTEQ maps do contain information about one-way streets and Garmin's routing engine does take one-way streets into account. They just lack any visual clue.
The POI (Point of Interest) database is fairly up-to-date and has helped me find a place to eat on several occasions.
But the main advantage of NAVTEQ's map easily outweighs its drawbacks. The entire European road network, with even the tiniest streets, all wraped in a very compact package… It's so liberating! The digital map saves weight, bulk and time:
no need for a backpack or panniers just to carry tons of paper
no need to correlate the real world to the map and keep track of turns
no need to carry a separate list of restaurants, lodging and shops
You can go cycling in any direction, for as long as you wish, and never get lost. Unless your batteries are dead, of course.
// Hiking and backpacking maps
For backcountry travel, a detailed (1:25 000 cm) topographical map allows you to move faster, easier and safer.
Generally, such maps are made by government organizations and either sold or sometimes made available for free. The mapmakers, not the end-users, choose the digital format and compatibility, so, before you buy a GPS unit, check if the country you're heading to makes maps that work with it.
In Europe, that means checking for each country, as there's no centralized European Union cartographic organization. Yet. If you live in the USA, that'd be like checking whether the State of California supports Garmin GPS units. And then finding out if the State of Oregon does as well.
Topo Swiss v2
The Topo Swiss v2 is a digital vector map developed by the Swiss Topo, the cartographic agency of the Swiss Confederation.
They have been making gorgeous paper maps for more than a century. Their 1:25 000 cm maps are the most accurate and detailed topographic representations of Switzerland used by hikers, climbers and, of course, the military.
The Topo Swiss v2 map is compiled for Garmin devices. It combines data from 1:25 000 cm and 1:50 000 cm cartography, in vector form, and includes tons of information.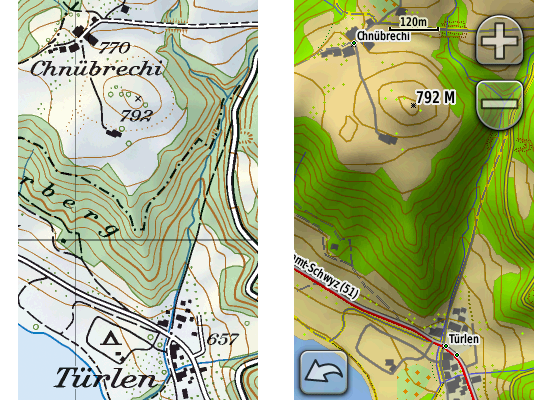 Photo of the paper map (left) compared to the screenshot of the on-device digital map (right)
complete and detailed road and trail network:

highways (divided lanes)
junctions
rest areas
parkings
2nd class highways (undivided lanes)
trunk roads
1st class roads (at least 6 m wide)
2nd class roads (at least 4 m wide)
suburban roads (at least 4 m wide)
3rd class roads (at least 2,8 m wide)
4th class narrow roads (at least 1,8 m wide)
5th class paths, trails and bicycle paths
6th class footpaths
traces (!)
mountain passes
bridges
underpasses and overpasses
tank roads (!)
traces of historic roads
airports, airfields and grass strips
ferries

complete and detailed rail network:

railway tracks (normal gauge, narrow gauge, rack, cable)
railway stations and stops
platforms
freight or nostalgic railways
railways out of service
intercommunal tramways
industrial tracks
tunnels
aerial cable ways
chairlifts
goods lifts
skilifts

boundaries:

national boundaries with numbered markers
cantonal boundaries with markers
district boundaries with markers
municipal boundaries with markers
boundaries of The Swiss National Park or protected areas

individual features:

houses
remote inns
alpine huts (!)
towers
ruins
greenhouses
storage tanks
allotments (gardens)
monuments
churches
chapels
cemeteries
shrines
crosses
cooling towers
wind power stations
chimney-stacks
castles
lookout towers
radio transmitters
large and small antennas
camp sites
walls
avalanche barricades
caves
erratic blocs

detailed topography:

contour lines (with various colors for ground, scree / shingle, ice / lake)
trigonometric points
spot heights
mountain peaks
lake levels
spot heights at lake bottom
terrain (relief) shading
small depressions
dolines
escarpments
stones
cuttings
embankments
ground slips
gravel pits
clay pits
quarries
rocks
scree
glaciers
moraines

detailed vegetation:

forests with defined outlines
forests with undefined outlines
scattered forests
isolated trees / groups of trees (!)
scrubs
hedges
orchards
tree nurseries
vineyards

detailed hydrography:

springs
streams
waterfalls
dry gullies
stream weirs
rivers, backwater
river weirs
marshes
peat cuttings
lakes
ports, quays and piers
dams
maximum flood levels
lakes with varying water levels
overground and underground pipelines
ponds
fountains
wells (!)
reservoirs (!)
water towers

detailed and differentiated representations of settled areas (down to a building shape precision)
Plus, the digital map includes information not present on the 1:25 000 paper maps:
complete official network of the Swiss marked (blazed) trails network (huge!)
country-wide SwitzerlandMobility marked routes (to cross the whole country)
POI (Points Of Interest) like hotels, restaurants, Post Offices, etc.
routing on roads and trails (read further for details)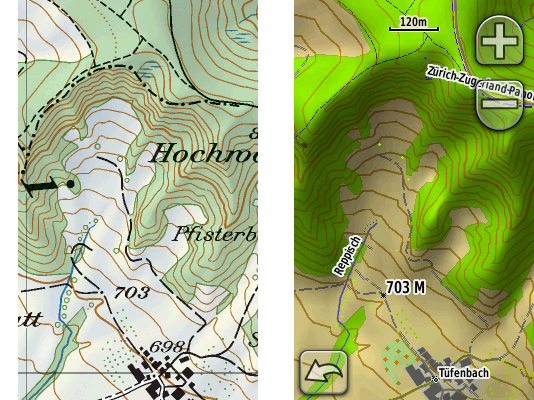 Photo of the paper map (left) compared to the screenshot of the on-device digital map (right)
The map's detail is stunning. An amazing work of graphic design.
I've been using the paper versions of the map for years and its accuracy and minutiae have always impressed me. The digital vector map goes even further, as you can zoom in beyond what you could do with a loupe and yet maintain sharp object display.
// Watch out for the difference between maps on SD cards and maps on DVDs!
The Topo Swiss v2 is sold on a CD.
But the NAVTEQ / Garmin City Navigator Europe is available in 2 forms:
precompiled on an SD card
uncompiled on a DVD / CD
Both cost the same, but, consider the differences!
SD card map:
the SD card is included for "free"
insert the card into the GPS unit and use the map right away: plug-and-play
it is absolutely impossible to download the map from the GPS unit or from an SD card reader to your computer, Mac or PC, to see the map in Garmin RoadTrip or Garmin MapSource software: you won't be able to use the map to create or edit routes or waypoints on your Mac or PC
DVD / CD map:
you have to get your own SD card if there's not enough internal "disk space" on your GPS unit: for example, the complete NAVTEQ / Garmin City Navigator Europe takes approximately 1,6 gigabytes (Oregon has 850 megabytes of internal memory)
you have to compile the map on your Mac / PC in order to upload it to the GPS unit: a lengthy and convoluted process, especially on the Mac (see below)
you can see and use the map on your Mac / PC to create and edit routes and waypoints
Honestly, unless you have neither a Mac nor a PC, I don't see a reason to buy the SD version. SD cards are cheap and the power to create and edit stuff on your computer is priceless. Buy the DVD / CD versions!
ROUTING
// What is routing and why it's a trade secret?
The ultimate navigation aid, routing allows you to select the point of departure and the point of arrival and let the GPS unit:
select the most appropriate route (shortest duration, shortest distance, scenic route…)
show you the route
guide you through the route by telling you when to turn or head straight
Routing requires:
a routing engine (software) inside the GPS unit
a routing capable map (a map that describes its features like roads and trails in such a way that a routing engine can use to calculate the optimal route)
A routing engine involves a huge number of parameters and algorithms: a lot of math and logic.
Each GPS manufacturer tries to build a better routing engine to differentiate itself from the competition. The result – a piece of proprietary software – is kept secret. So neither Garmin nor TomTom will discuss the details of route selection.
Maybe a good thing for the GPS manufacturers. Not so good for us, end-users, as we have to reverse-engineer the logic behind the few options available in the GPS setup and the routing engine's real-world performance.
// Garmin's routing engine
Garmin says they do their best to keep the routing engines of their current GPS units as similar as possible. My personal experience with the Oregon and Colorado confirms that: both are identical when it comes to routing.
The units' setup provides several ways to control the routing:
transportation type:
The car mode is Garmin's main mode. Most people that can buy a GPS receiver use cars to move around, right?
So, from a market share viewpoint, it makes sense to first develop a routing engine for car navigation. The GPS-buying cyclists and pedestrians… Well, we are a minority in the real world, and we are a minority in the GPS world as well.
As I understand it, the bicycle and pedestrian modes build upon the car mode with maybe some differences and adjustments that Garmin prefers to keep to itself. I haven't found major differences. According to Garmin, "no elevation data is currently considered in bicycle routing". I'd extrapolate that to the pedestrian mode as well.
For now, whether you're on a bike or on foot, you're still a car in Garmin world. You can't ride against traffic on one-way streets open for two-way bicycle traffic or use bridges closed to cars. But you can walk (run?) on toll-roads and highways, no problem. Just remember to adjust the avoidance settings below.
avoidance setup:
u-turns

Bicycle: anytime. Well, almost.
Pedestrian: you bet!

toll-roads

Bicycle: not an option, at least in Western Europe.
Pedestrian: only if you run and hop over fences real fast so the cops can't get you if you don't get hit by a car. Avoid.

highways

Bicycle: surprisingly, I ride my bike on what NAVTEQ / Garmin considers "highways". If you avoid these, sure, you'll ride on some beautiful backcountry roads but you may add half an hour or so to your ride. Also, a lot of Swiss "highways" feature semi-segregated bike lanes. Bring it on!
Pedestrian: avoid? I can walk on the side if I want to, but I do like silence.

unpaved roads

Bicycle: Perfect for a mountain bike. OK for a "normal" bike with multi-function tires such as the Schwalbe Marathons. Not a good idea for a road bike on slicks. Or a folding Brompton.
Pedestrian: that's where we're going.

carpool lanes

Bicycle: never seen these "carpool lanes" in Europe. I ride in the bus lanes. Great fun!
Pedestrian: avoid.
guidance method:
on road for time

Bicycle: choose this one if you ride a road bike. I've determined experimentally that this mode tends to select the "normal" asphalt roads, at least in Switzerland and France. Just remember that Garmin doesn't care if you like climbing or not. Garmin considers you a Tour de France rider. No panniers. Unlimited muscle power. Cheers, food and water in the car that follows behind.
Pedestrian: Garmin will recommend to climb up and down just to walk on a highway. Skip.

on road for distance

Bicycle: again, by trial and error, I've determined that this method pulls me onto roads used by farmers: rarely maintained, huge number of potholes, horse and cow fecal matter. Might be OK if you ride a mountain bike.
Pedestrian: this is the method to choose. Go the shortest route.

off-road

Off-road is the weirdest routing method I've ever seen. It means: straight line. Go man, go! A building? Go through. A lake? Swim buddy! A forest? Machete, machete!
Don't use it. It's useless. Use your brains instead.
// The special case of routing on trails with Topo Swiss v2
The amazing new feature of the Topo Swiss v2 is its ability to route on trails! The Garmin units' routing engine is able to process the trail data and calculate a route using the foot paths. The Oregon and the Colorado will reassure you with indications like "NE on trail", and even tell you when to take the next turn. Very cool.
Screenshot: route over the Jura ridge (left) with routing directions on the trail (right)
How to make it work:
in Garmin Oregon or Garmin Colorado

on road for distance
calculate routes for pedestrian, or bicycle if you're on a mountain bike
off road transitions set to auto
do not avoid unpaved roads

in Garmin RoadTrip on Mac OS

in automatic calculation mode, RoadTrip will insist to choose roads whatever the routing settings, so, unfortunately, you will have to use the route tool to manually indicate the trails
Screenshot: Garmin RoadTrip automatically calculated route from A (north) to B (south)
Screenshot: manually created route from A (north) to B (south) using the route tool in Garmin RoadTrip
in Garmin MapSource on Windows

use auto-routing
vehicle: bicycle (even though you're on foot)
shorter distance
do not avoid unpaved roads
// Routing quirks and bugs
The units fail to route over great distances. Not enough processing power.
Example: I want to ride from where I am, in Geneva, Switzerland, to Paris, France. Distance: 550 km (414 mi). Satellites: acquired. Weather: great. Please, get me there. No way, man: "Route calculation error: not enough memory available". Does not compute on the device, while on the Mac / PC, Garmin's RoadTrip / MapSource calculate the route just fine.
COMPASS
Both the Oregon (models 300, 400 and 550) and the Colorado (models 300 and 400) carry an electronic compass.
A compass is very helpful when:
you move too slowly to calculate your direction just from the change of coordinates (under about 3 km/h (1.8 mi/h))
you stand still and turn around to check the heading on the map with what you actually see
However, I wonder why Garmin has opted for a much less user-friendly 2D compass for the 300 and 400 models. A 2D compass requires a perfectly level unit. No tilting the screen.
Fortunately, the newest Oregon 550 has a modern electronic 3D compass that works regardless of the inclination of the GPS receiver. Unfortunately, it also includes a camera, instead of shedding some weight and bulk.
ALTIMETER / BAROMETER
Both the Oregon and the Colorado include a barometric altimeter (models 300, 400 and 550).
Personally, I rarely use either the barometer or the altimeter on the GPS:
When hiking in the mountains, I switch to my Suunto T6 wrist computer to keep an eye on ascent and descent speeds and to intersect my position with the paper map's contour lines.
I also prefer local weather forecasts to nightly barometer pressure trending.
But it's nice to have a backup just in case.
GPS SIGNAL RECEPTION: ACCURACY AND SPEED OF ACQUISITION
// Antennas
The Oregon has no protruding antenna. Instead, it uses a variant of the ceramic patch antenna that wraps around the body's internals, like in most cell phones of the last 10 years. Also following the mobile technology trends, the Oregon lacks a connection port for an external antenna.
The Colorado has a rather classical, prominent quad-helix antenna. And it carries a connection port for an external antenna.
// GPS signal processing
Because radio signals from the GPS satellites are very weak when they reach the GPS receiver, the quality of signal processing is very important to filter out the noise and calculate the exact position, quickly. Signal processing occurs both at the hardware and software levels in the GPS receiver.
Both the Oregon and the Colorado use contemporary, high sensitivity GPS microcontroller chips that apply extensive digital signal processing and complex quantum field's correlation functions to acquire a satellite fix despite heavily attenuated GPS signals. In other words, both units manage to compute their positions in urban canyons and under heavy foliage despite the smallish receiving antennas.
However, the Oregon has a software advantage: the HotFix. Basically, it's a cache of the possible GPS satellite orbital positions (the ephemeris) for the next 3 days at your current location. Unlike geostationary satellites, GPS satellites move in relation to a fixed point on the Earth surface. Each satellite flies around the Earth twice a day. Because the satellite constellation keeps moving even though you keep still, the GPS receiver needs to constantly adjust to the changes. The pre-computed GPS satellites' positions can speed up the process of finding the satellites the next time you power on your GPS receiver. Of course, the HotFix system fails if you move over a considerable distance with the GPS unit switched off.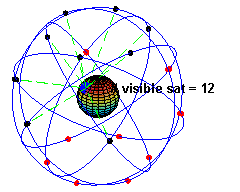 Animation: the GPS satellites' constellation moves around the Earth (author: El Pak)
// Real-life performance
Overall, the Oregon is about 25% better than the Colorado. It gets a satellite fix faster, in more difficult conditions.
To me, both units seem less accurate than the Garmin GPSMAP 60CSx, but I haven't calculated the differences in a rigorous way.
In the city, both the Oregon and the Colorado have a hard time acquiring a satellite fix when switching them on and immediately riding away. I've ridden 3 km (2 mi) with both units still displaying the "acquiring satellites" message.
MAPS, WAYPOINTS, ROUTES AND FIRMWARE MANAGEMENT ON THE MAC / PC
A GPS management software on the Mac / PC maximizes the potential of the unit. It allows you to use the power and ergonomics of a "normal" computer (large screen, full-size keyboard, mouse or tablet) to:
view your maps
create, edit and transfer waypoints, routes and tracks from and to your GPS unit
search for points of interest (POI)
add custom points of interest
import navigation data from other sources, like GoogleMaps
update your unit's firmware
// Maps, waypoints and routes management
Garmin provides RoadTrip for Mac OS and MapSource for Windows to manage your maps, waypoints, routes and tracks.
While MapSource for Windows has been available for years, RoadTrip became available only recently, in September 2008. Despite its young age, RoadTrip offers quite a close feature parity with MapSource. Both programs are solid, stable and work at the same speed. Fortunately, the user interfaces differ to conform to the general Mac OS and Windows look and feel.
Unfortunately, RoadTrip on the Mac is still a work in progress and lacks some of MapSource features:
No shaded reliefs. Sure, you can guess from the contour lines, but why not simplify things? Humans are visual.
No elevation profile for a route. No way to check how hard your route will be.
No distance / bearing tool. Well, we can do without, but still.
No track drawing and editing tools. Handy for off-trail navigation.
No fine-grained routing control. MapSource allows for a much more precise control over the automatic routing. Unlike MapSource, RoadTrip has difficulty routing on trails.
No simple route cloning and refactoring. If you create a route in RoadTrip, then duplicate it, the "via waypoints" (created when dragging the route) will not duplicate. So if you drag a "via waypoint" on the new duplicated route someplace else to modify the route, the old route will change as well.
Both RoadTrip and MapSource do not allow simple synchronization with the GPS unit:
If you create a waypoint on the GPS device with an auto-generated name like "Road 001", then download that waypoint to your Mac / PC, then rename the auto-generated name in RoadTrip / MapSource to something meaningful like "Bench with a view", then upload it to the GPS device, the old "Road 001" will still remain on the unit. A duplicate. You'll have to manually delete it from the GPS receiver. And that's exactly 4 clicks once you get inside the "Waypoint manager" menu on the Oregon. Per waypoint. So if you have a bunch of duplicate waypoints, the process becomes a hassle. No, you can't delete waypoints selectively en masse.
// The special case of Mac OS and maps "Made for Windows and Garmin MapSource"
Fortunately, the newest maps from Garmin, such as the NAVTEQ City Navigator Europe, install on the Mac just fine. Straightforward, out of the box.
Unfortunately, most non-Garmin maps, precisely, the topographical maps of Europe, are officially made only for the Garmin's MapSource on Windows. Usually, they use an oh so Windowsy installer, so you can't just drag and drop an open-standard file somewhere.
So, what if you want that awesome Topo Swiss v2 on your Mac? There is a solution. Follow the convoluted procedure:
install the map on a Windows machine (either virtual or real)
unlock it on Windows via the not so easy-to-use, special plug-in required, web-based process
install the Garmin MapConverter software on the Windows machine
convert the unlocked PC map in the MapConverter
save the converted map somewhere a Mac can access (virtual folder, USB drive, network volume…)
install Garmin MapManager on your Mac
open the converted map in MapManager
MapManager installs the map into RoadTrip
As easy as 1, 2, 3… 8! But doable. Normally, any map made to work with Garmin MapSource on Windows should work with Garmin RoadTrip on Mac OS.
// GPS firmware management
Firmware is the software that runs your GPS unit, its operating system, like Mac OS or Windows. Keep it up-to-date for best performance.
On the Mac OS, Garmin provides an easy to use Garmin WebUpdater to update the firmware of your unit. On Windows, MapSource performs this role. Hook up the Oregon or the Colorado via USB, make sure you're connected to the internet and the software will check that you have the latest and greatest from Garmin. Rather neat!
However, it turns out WebUpdater does not install "beta" software. Uh oh!
So when Garmin tech support tells me I need to install the "Beta Software 2.95" in order to be able to select restaurants by their cuisine on the Oregon… Well, I have to manually download the "convenient" self-expanding Zip package (.exe), unpack it on Windows, then copy the needed file over to the GPS unit, then reboot the GPS. Halleluiah! I no longer have to ride to a restaurant to find out if they do veggies! A feature that has been working on the older Colorado, by the way.
I suspect that either Garmin's quality assurance department is entirely focused on FAA certification of its aircraft systems, or its development team has embraced the perpetual beta paradigm.
So let me rewrite that statement. If you want the latest and greatest from Garmin, like POI subcategories, manually install the latest beta software. At your own risk, of course.
SPECIFICATIONS
Before I get to the conclusions and alternatives, compare the specs of the units I've reviewed:

Garmin Oregon 300

Garmin Colorado 300
Dimensions:
(width x height x depth)
6 x 11,5 x 3.5 cm
(2.3" x 4.5" x 1.4")
6 x 14 x 3,5 cm
(2.4" x 5.5" x 1.4")
Empty:
146 g (5.15 oz)
167 g (5.9 oz)
With 2 AA
rechargeable NiMH:
205 g (7.2 oz)
226 g (8 oz)
Display size
(width x height):
3,8 x 6,3 cm
(1.53 x 2.55 in)
3,8 x 6,3 cm
(1.53 x 2.55 in)
Display size
(diagonal):
3 in (7,6 cm)
3 in (7,6 cm)
Display resolution
(width x height):
240 x 400 px
240 x 400 px
Color depth:
65 000 colors
65 000 colors
Screen technology:
transflective LCD with backight
transflective LCD with backlight
Display finish:
matte
high-gloss
User interface:
resistive touchscreen
buttons and input wheel
Waterproof:
yes (IPX7)
yes (IPX7)
Bike mount:
yes
yes
Built-in memory:
850 Mb
384 Mb
Data cards:
micro SD
SD
Max number of waypoints:
1 000
(2 000 on Oregon 550)
1 000
Routes:
50 (200 on Oregon 550)
50
Turn by turn routing:
yes
yes
Compass:
yes, 2D
(3D on Oregon 550)
yes, 2D
Barometric altimeter:
yes
yes
European road maps:
yes
yes
European topographic maps at 1:25 000:
yes
yes
Computer interface:
USB 1
(USB 2 on Oregon 550)
USB 1
Mac OS support:
yes
yes
Windows support:
yes
yes
VERDICT
Garmin Oregon or Colorado? A no-brainer: the Oregon is much, much better because of its touchscreen user-interface. Garmin tells me they prefer to offer a huge choice to the customer. I'd reduce their product range and focus on improving their obviously better products.
Garmin Oregon or Garmin Dakota? My extensive review of both units has shown that, except when viewing shaded relief or dark colored vegetation cover, you'll be able to easily read the Dakota's screen in any lighting condition. Mostly without backlight, saving battery power. You'll appreciate its better ergonomics: more compact and lower weight. Although perfectible, the Garmin Dakota 20, with its 3-axis compass, is currently the best GPS mapping device available, in my opinion. Even if it was twice as expensive as the Garmin Oregon 550, I'd still get a Dakota 20.
NAVTEQ / Garmin City Navigator Europe? Not much choice. Get it if you plan to ride on the European roads.
SwissTopo v2? Absolutely. Gorgeous, awesome, superb. Get it if you plan to hike, climb or mountain bike in Switzerland.
ALTERNATIVES
REVIEW CONDITIONS
feet: bipedal, humanoid, optimized for long-distance / high efficiency transportation
timeframe: first days of March 2009 till mid-May 2009
distance: approx 1 500 km (932 mi)
locations: the Geneva, Vaud, Fribourg, Neuchâtel, Bern and Valais cantons of Switzerland, as well as the Ain and Haute Savoie departments of France
temperatures: -10° C (14° F) to +25° C (77° F)
weather: sunshine, overcast, light rain, heavy rain, snow
ACKNOWLEDGMENTS
Special thanks to Simon GILBERT of Garmin Europe (UK) and Romain WALT of Bucher + Walt (Switzerland).
FURTHER READING / ELSEWHERE ON THE WEB
CHANGE LOG
| | |
| --- | --- |
| 2010-03-26 | Added comparison with Garmin Dakota in "Verdict" section and a link to my review of the unit in "Further reading / Elsewhere on the web" section. Updated iPhone alternative. |
| 2009-06-02 | Added "Further reading / Elsewhere on the web" section. |
| 2009-05-28 | First publication. |
matt kossegi / 2009-05-30 01:04
what is a fair price for each unit?
skibum
Sorry, I don't mention prices because they vary depending on regions, shipping rates, currency exchanges and taxes. Too many variables.
Try your local shops, then take a look online.
Tony Rave / 2009-06-11 17:36
'Spasiba bolshoi' for your test/comparison of both Colorado and Oregon. It was a pleasure reading the text and I'm left with the impression that you know what you're writing about.
For some time I'm 'ready' to buy a new Outdoor model, if only to have something new to play with. That's why I was really interested in the introduction of the Colorado and a bit later the Oregon.
Once I saw the construction of Colorado's backcover I was cured from any desire for this model.
Now I'am still following the development around the Oregon, I like it's profiles and it's ability to read tracks from the mSD card but this model still fails to convince me. I read something about improved readability for the 550 screen, but if it's only more backlight I'm not happy. I hate fingerprints and scratches on a display, also I mistrust the durability of touch screens, particularly when used outdoors where it can easily get knocked and touched with dirty gloves (sand-grains).
I'm anxiously awaiting a new model that out-performs my 60CSx very clearly and in all aspects that are important to me.
So-called features like built-in camera's, MP3 players, picture viewers, etc. however don't appeal to me. So far, I can't find a better 'one for all purposes' GPS_r / navigator combination, I guess I remain loyal to my present one, as it always did to me.
Your comments helped me to resist the urge for something new as long as that 'something' does not bring me important improvements in the first place.
If I hadn't experienced the good screen readability of a 60/76-series I would certainly find it a bit harder to resist the Oregon.
Adam Jester / 2009-06-29 19:33
Where can I buy Swiss Topo V2? The Swiss Garmin site seems to not have a purchase option on the maps section.
The Swiss Topo V2 can be purchased in many Outdoor shops in Switzerland. A non-exhaustive list of retailers is available at http://www.garmin.ch/fr/revendeurs .
A large number of online shops also sell this map. For example:
http://www.gps-shop.ch
http://www.veloplus.ch
Markus Kapfer / 2009-07-14 12:38
Well done!
Very nice work!
Superb comparison!
Thanks a lot
laurent ad1e / 2009-07-20 01:24
I'm indonesian. How about going to the sea? I need for indian ocean + java sea maps. Did colorado have sea map too?
Jason Rickerby / 2009-08-03 00:57
Thanks for the great review.
Like many others I had a tough time deciding between the 60Csx and the Oregon 300. Since I will be using it in the dual role of auto and pedestrian modes, I selected the Oregon 300 for it's better performance on the road with routing, map redraws, etc.
My old Garmin GPS V has been getting very slow with the more recent map updates; something I expect is happening with the 60Csx too. I have really enjoyed the design of my old GPS V with it's ability to rotate the screen orientation that is very handy for auto vs pedestrian navigation.
I must confess, with the exception of entering text into the unit, I prefer the collection of hard buttons on the GPS V to the touch screen on the Oregon 300.
Also as should be obvious, the grey scale screen of the old unit is far more readable under all lighting conditions, but as you say, the older lower resolution displays have much less map detail.
With regard to size, the Oregon seems to be good, as it still easily slips into a pocket or pouch on a backpack strap, which is not something that can be said of my GPS V or a 60Csx.
While the Oregon is not perfect, it seems reasonably well designed overall.
André van Stijn / 2009-08-13 12:50
Loved your review on these gps devices, I sold my 60csx and are now considering what to buy, I can say that the only reason that I sold the 60csx was that I would like to have a model which is supporting the so called paperless methode (geocaching). So after reading your review I made my choice and when I am visiting the USA next month I will buy the Oregon 400
Thnx mate,
Fluefiske from Holland
Jay Scheldorf / 2009-08-19 21:30
Very nice write up. Very comprehensive and helpful. Thank for your effort.
Tony,
'Spasiba bolshoi' for your test/comparison of both Colorado and Oregon. It was a pleasure reading the text
Thanks!
I'm left with the impression that you know what you're writing about.
Well, I'm glad that's the impression you get. I write only about stuff I know, and if I don't know something, I say it in the text, explicitly.
Once I saw the construction of Colorado's backcover I was cured from any desire for this model.
Actually, the Colorado cover is OK. Not super easy to get off, but not a major flaw either.
I read something about improved readability for the 550 screen
Yes, I can confirm. The Oregon 550 has a glossier finish, which results in a slightly better visibility.
I hate fingerprints
Well, if you dislike fingerprints than the whole touchscreen idea won't work for you, including the iPhone.
I mistrust the durability of touch screens, particularly when used outdoors where it can easily get knocked and touched with dirty gloves (sand-grains).
So far, so good with the Oregon. Obviously, I haven't had the unit for 5 years, but the screen surface has been holding up pretty well.
Laurent,
How about going to the sea? I need for Indian ocean + java sea maps.
I'm sorry, but I don't know. I have little experience with portable GPS navigation on the water. Try looking on Garmin's web site or Googling.
Thank you, Markus, Jason, André and Jay! I appreciate your feedback.
Maybe you've seen my post on Twitter: I've just received the Garmin Dakota 20 and from my first impressions it may be the GPS unit to choose. More compact, more readable.
Will publish a comparison review of the Dakota, after testing it thoroughly (minimum 1 month). Follow me on Twitter or subscribe to the RSS updates to get notified of the new review.
Victor Negron / 2009-09-03 05:21
Thank you for this VERY informative writeup! I use GPSs not only for fun but work as well, and it is amazingly difficult to find comprehensive reviews on them. I'm interested to hear what you've got to say about the Dakota. Please keep me posted.
Thanks again, and keep up the great work!
Victor in NC
Carole Engel / 2009-09-03 08:29
Excellent review and so well explained. I have used a GPS for about 10 years now (upgrading 4 times) and am thrilled to bits with my new all-singing all-dancing Garmin Oregon.
However, like you say, the screen is a nightmare. I am a walker, so changing the backlight is not a problem and made customer friendly by not having to unlock the screen to do this (good thinking, Garmin). I now walk with no backlight during the day, as it little improves visibilty. However, I do try up-ing it now and again, to get that tiny bit more detail in tricky situations – like when I can't see anything at all!. My other gripe with the screen is that it is so very easy to scratch and damage. I do much of my walking off-path and have to battle with undergrowth, fences, walls and heaven forbid, thick forest. My GPS is held in my hand most of the time but is slung round my neck for when I need both hands. I then shove it in a handy breast pocket to protect it but just jiggling with my mobile phone caused loads of tiny pit-like marks. Was I heart-broken? You bet. I now have a special, custom built (i.e. expensive) bit of flimsy plastic to prevent this happening again.
And now to my question. Would really like to know why, on a very recent trip to walk the Tour du Mont Blanc (with extra climbing, of course), I had the Topo maps but no Grid Reference? Any suggestions, please?
Next year I hope to walk the Pyrenees, end to end and a GR might just prove useful when the weather gets bad, which it surely will at some stage.
Thanks again – brilliant work (and I got to find out how many WPs and routes my unit will hold – been wondering about that for months).
Carole Engel – LDWA (Long Distance Walkers Asociation) 19932
Keith Raymond / 2009-10-14 23:06
Awesome review. Was ready to go out and get the Oregon, even though I am leery of the screen quality as yours and others have noted. BUT! I saw the final post about the Dakota 20 and your teaser comment. So, is a review pending? Imminent? In the oven?
Been using a Legend Cx for years on my European bike trips. Outside rubber piece is coming off so its time for an upgrade. The new touch screens look great but I just can't get over that poor visibility.
Yes, good idea to wait. ;-)
Yes, a Garmin Dakota 20 review is indeed in the oven. A photo session yesterday with the weakening sun of October. Working through the draft. Trying to squeeze the writing in between other projects. The Dakota 20 review is now the next to be published on my web site, please stay tuned, either manually, on Twitter or via RSS.
Thanks Victor, I use the GPS in a professional context as well, for my photography, particularly location scouting and navigation.
Thank you Carole.
I would recommend to avoid any elecro-optical gear hanging around the neck or on the shoulder when walking off-trail. Otherwise, lenses, screens, binoculars – all will be destroyed pretty quickly. And, plan for the inevitable: that's the reason I buy a B+W UV filter for each new camera lens.
Personally, I put the GPS with unlocked screen in the side pocket of my ULA Conduit, screen side facing the belt padding. I put it out only to sight-check, then back in the pocket.
To your question… what do you mean by "Grid Reference"? The grid printed on the topographical maps? The coordinates of your position on your GPS?
Very usefull articale. One question you have not mentioned the range of map co-ordinate systems possible with either gps. I have recently lost a Garmin quest which alowwed one to programme many different systems ie GB Nation Grid etc. I would like to be able to dipaly both Nation grid and UTM.
I also look forward to A reviedw on the Dakota 20
André A. / 2010-01-02 21:47
Very informative – thanks!
However, the "Topo Swiss" map is not developed by Swisstopo, but by Garmin. Swisstopo's maps are called "Swiss Map" and are NOT vector maps and NOT made for GPS devices but for PCs. There might be some possibility to transform them in a format readable by GPS devices, but this is not the intended use, most likely not worth the effort (because it is a pixel map and will stay a pixel map) and is probably illegal.
Information about both products in German here (comparison of features in the PDF at the bottom of the page): http://www.paravan.ch/faq/index.php?action=artikel&cat=6&id=21&artlang=de
André A. / 2010-01-03 02:42
I should probably have added above that the basic data of "Topo Swiss" is the same as for Swisstopo's "Swiss Map", so your argument that the quality of the data is very high is of course true.
Hi,
have you ever tried to use a OpenStreetMap ? There are some renderings:
http://wiki.openstreetmap.org/wiki/DE:All_in_one_Garmin_Map (sorry only German descrition)
http://wiki.openstreetmap.org/wiki/User:Computerteddy
or basic info about Garmins and OSM:
http://wiki.openstreetmap.org/wiki/Garmin
Martin Stjernholm / 2010-02-04 03:15
Thanks for a very informative review. Indeed these devices seem a bit bleak compared to an iPhone, although it doesn't cut it quite yet. I'm wondering though how the iPhone screen compares in tough lightning conditions?
Stephen Soukup / 2010-02-06 09:52
Hello Anatoly. Great info
I am seriously considering the Dakota 20 mainly for geocaching with my son here in Southern California, USA.
When can we expect to see the Dakota 20 vs Oregon comparison review?
I want the 3 axis compass (like in the Dakota) but I think the WhereIGo geocaches seem like a cool fun idea, but the Dakota does have those :(
But screen visibility is very important so…
Maybe go with Oregon 450 instead? which has the 3 axis compass, but more expensive and all I want is a geocaching GPS! Sigh
Thanks and keep up the good work
Derek,
The Garmin Oregon offers the following choice of position formats:
hddd.ddddd°
hddd°mm.mmm'
hddd°mm'ss.s"
Austrian grid
Borneo RSO
British grid
Dutch grid
EOV Hungarian grid
Estonian grid
Finnish grid
German grid
Icelandic grid
Indonesian equatorial
Indonesian irina
Indonesian southern
India zones
Irish ITM
Irish IG
Loran TD
Maidenhead
MGRS
New Zealand
New Zealand TM
QNG grid
RT 90
Swedish grid
SWEREF 99 TM
South African grid
Swiss grid
Taiwan grid
US national grid
UTM UPS
W Malayan RSO
User grid
André,
From what I know, Garmin does not develop maps or other navigation data (examples: elevation data, POI, airport approaches, etc.) In other words, they do not survey countries around the world to create maps.
Garmin specialty is hardware and embedded software that interfaces data read-in from instruments (examples: GPS, air-speed, attitude) with navigation data created by private companies (examples: Navteq) and state agencies (examples: USGS, US NACO, France IGN, SwissTopo).
Garmin does help to convert the data into formats compatible with Garmin devices.
In my understanding, the core data of the Topo Swiss map is produced by the Swiss Federal Office of Topography, and not by Garmin.
The PDF document you reference above dates from 2005. 5 years old. And even that document mentions Garmin Switzerland as Bucher+Walt, the importer and reseller of a large gamut of equipment. No mention of Garmin painstakingly surveying the Swiss Alps.
Furthermore, all maps produced roughly since the invention of Postscript and Bezier curves' editing software (examples: Freehand, Illustrator) are vector maps. The cartographers use aerial imagery and local surveying to draw maps in vector format, name locations with vector fonts, add details like topography, symbols, etc. The files are then printed on paper, reused in other products, or rasterized into what you seem to call "pixel" form (TIFF-style data). But the source remains in vector format.
Martin,
The iPhone is barely useable in bright sunlight. Just reading a book on my iPhone, sitting in the sun, is sub-optimal. And I have to crank screen brightness level to maximum, draining the battery real fast.
Dedicated GPS receivers like the Garmin Oregon, Colorado or Dakota also have a huge advantage: they work without cell phone coverage. Using GoogleMaps on the iPhone is nice when you have coverage and when you're ready to pay 1 EUR per 1 Mb of data roaming when outside of your country.
The Dakota vs Oregon article I'm preparing has side-by side shots of Oregon, Dakota and iPhone for size and bulk comparison.
Stephen,
Honestly, I'm not the best person to talk to about geocaching. I don't do geocaching at all and have zero experience with Garmin geocaching features.
Dear all,
I apologize for the delay with delivering the Dakota vs Oregon article. It is at the top of my writing list and I'm doing my best to free some time from photography and design projects to finish and publish it.
I've logged thousands of kilometers on the bike and on foot with the units, backpacked, used in the cities (including nightmarish Paris), in different lighting conditions, temperatures (+25 to -15) and weather (sunny to snowy). So, the data is ready.
The pictures are ready.
The text is waiting several draft revisions. My writing workflow involves a lot of re-reads and re-edits.
The short conclusion is that the Dakota 20 is the best outdoor GPS unit we can buy today. Regardless of price.
Even if the Dakota 20 was twice more expensive than the Oregon 550, I'd still get the Dakota 20.
Reasons?
1. Screen usability. I can read information from the Dakota in any lighting condition.
2. Size. Easier to handle than the Oregon, takes less handlebar space, weighs less.
So, if you trust my opinion without first reading the detailed review, get the Dakota 20.
Sorry again and thank you for your patience!
Phil Hooper / 2010-02-23 16:43
Hi Anatoly. Fantastic review and was going to get an Oregon 300.
Now really reconsidering in buying a Dakota 20 instead which I need to get as soon as possible as I am going to be travelling for the 10 weeks shortly. I will use it for two main things – Geocaching and following (both on road and off road) routes when mountain biking.
A couple of questions:
In the UK I'll produce routes using bikehike.co.uk which will follow footpaths from OS mapping and also a combination of auto routing using google maps. The shop units and staff haven't been able to tell me the following: when coming to a route (waypoint) change of direction can it give a countdown to that point and the intended new direction? I can't see that you actually follow the map on the screen of either the Oregon or Dakota when cycling – or do you? Does the reduced screen resolution inhibit use when following maps.
Look forward to your help and the long review.
Phil,
The Dakota, Oregon and possibly Colorado (haven't checked) allow to display "distance to next", "ETA at next", "time to next" and "next waypoint name" on the screen.
If your map is routable, the GPS will calculate the distances on the paths / roads. If your map is not routable, it'll calculate distances in straight lines.
What do you mean by saying I do not "actually follow the map on the screen of either the Oregon or Dakota when cycling"? There's no in-built speaker calling out the turns… I have to follow the map and routing directions using my eyes.
Screen resolution is not as important as screen readability. If you can't see what's on screen, however high-resolution it may be, you can't use the GPS.
Drew Knox / 2010-03-19 18:47
Anatoly,
After reading every word of your Garmin vs Colorado review, I do trust your opinion. I trust it enough to pass along my brand new Oregon 300 to my son and opt for the Dakota 20 even without reading your review — but I'm really looking forward to it. On every bike ride in bright sunlight, I find myself staring at a reflective, solid bronze screen wondering if I'm on the route. The problems with daylight screen visibility on the Oregon can't be underscored enough.
Overall, yours is the best in-depth review of a particular GPS's functions and features I've ever read.
Thanks Drew, I really appreciate your comment.
Dear all,
I've finally published my Garmin Dakota vs Garmin Oregon GPS comparison review. Sorry again for the delay, looking forward to your feedback.
Kai Tiura / 2010-04-11 16:50
Anatoly;
Just a few comments. You mention the Colorado cover being "much" easier to remove than the Oregon's. I can't see how the Oregon's cover could be any harder to remove than any other, but I'll take your word for it. However, you're making it a point and I think it need not be. Removing the Oregon's cover is a very simple matter of flicking a little locking switch and pulling it off! Done! If you have the carabiner attachment on then it's a matter of sliding your thumb under the attachment and sliding it off (very quick) and then removing the cover. Sounds like you have spent enough time with both so I wonder why you're having trouble with any of this. I don't mean to sound harsh, but the removal of the Oregon cover, at least, is as simple and fast as it gets.
Second point is regarding the bike mount slipping after a few bumps. I have an Oregon 400t, but it doesn't matter which, this will help. If you can't put your mount on the gooseneck of the bicycle, which I see from the photo in your review you probably can't, then place a thin piece of rubber (perhaps cut from an old bicycle tube, etc) between the mount and the metal before cinching down the zip ties to give it extra grip.
Your response to a comment from Phil regarding following the compass while biking mentions not having turns called out due to no exterior speaker, but you didn't mention that there is a beep that sounds audibly when a turn is coming so that time spent looking at the screen is limited to the very short period necessary to determine where you turn next and in which direction, a couple seconds really at most if zoomed correctly. And the beep comes once for nearing your turn and then twice for an immediate turn, so if you know your general direction, you needn't look at the screen much at all.
Since you don't geocache, I'll say that the Oregon and Colorado both are exceptional geocaching units, as is the 60 CSx, but the Oregon gets my vote for top performer with its GUI interface and touch screen, and both have the myriad ways you can customize the "profile" screens for your particular activity, switching back and forth between them easily and quickly when changing activities. Geocaching, Recreational, Automotive, Marine and Fitness profiles are standard and you have the ability to create your own versions for specific uses you have, each allowing a totally different setup of icon access for ease of use, not to mention the ability of the new "dashboard" feature to add specific, smaller versions of other features on the GPS to the Map View, both when navigating and/or when NOT navigating! This is a very useful thing. For geocachers, for example, the map view while driving could show the nearest geocache with a small icon next to it that, if pressed, will give the details of the cache. Or you can add data fields with ETA, speed, compass, stopwatch, elevation plot… It goes on and on. And, unfortunately, so do I.
I really wanted to thank you for your review and point out a couple things, but I got carried away. So, thanks for your review!
Kai,
Thank you for the detailed comment, I appreciate it.
You mention the Colorado cover being "much" easier to remove than the Oregon's.
Actually, it's the opposite in my text: "The battery cover of my Oregon 300 squeaked and moved 1 mm when pressed. […] As an advantage, the cover is much easier to remove than on the Colorado: changing batteries is simpler."
So I wholly agree with you.
Maybe you refer to some other point in my article where I might have mixed up the units' names?
Second point is regarding the bike mount slipping after a few bumps. […] place a thin piece of rubber (perhaps cut from an old bicycle tube, etc) between the mount and the metal before cinching down the zip ties to give it extra grip.
Absolutely. I'd received such a suggestion from Dominique BLACHON shortly after I published the Oregon vs Colorado review. I've applied the idea to both ahead stem and handlebar positions and it works great.
So I've included the tip in my more recent Garmin Dakota vs Garmin Oregon GPS comparison review.
Thanks for the beep tip! Haven't tried that one… and will as soon as possible.
Arth Berg / 2011-04-04 08:42
Thank you very much for this article. Could you please clarify, if Colorado/ Oregon's automotive mode can be used right out of box, or navigation engine must be purchased separately.
Thank you once more
Arth,
As I say in my article:
Routing, or, in other words, automotive mode, requires:
a routing engine (software) inside the GPS unit — included when you buy the GPS unit
a routing capable map (a map that describes its features like roads and trails in such a way that a routing engine can use it to calculate the optimal route) — not included in the GPS unit and sold separately
Arth Berg / 2011-04-06 07:27
Thank you very much for such a quick reply!
I'd like to ask one more question, if I may. How many channels utilize Colorado? I am asking about this, because MTK chipset, used in both devices supposed to have 12 channels, while the devices (Oregon/Colorado) I tested yesterday at Bestbuy displayed only 9 of them. The result was same in both the real and demo modes. So I am really confused. Could you, please, clarify the situation before I buy one.
Thank you once more
Sorry Arth, I don't have the Colorado to boot it up and check out the number of reception channels. But, honestly, having 9 is really, really more than enough for a precise 3D position.
ABOUT ANATOLY IVANOV / PROSE
Find out more about my posting and comments policy, as well as publishing frequency and copyright issues.