WHAT'S NEW AND INTERESTING?
30 years after Cascade Designs invented the self-inflating mattress, the company presents a new ultralight sleeping pad: the NeoAir. An air mattress with zero foam, zero down and zero high loft synthetics… but an insulation value greater than that achieved by their own ProLites!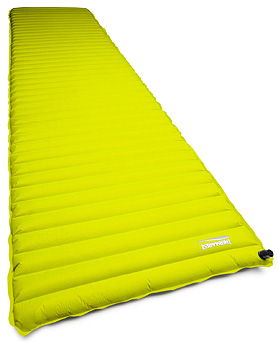 Photo: Therm-a-Rest NeoAir / Used with permission from Cascade Designs / Author unknown
What's even more interesting is that the full-length NeoAir weighs only 410 g (14 oz) and compresses to a super compact roll (the size of a 1-liter water bottle).
Photo: Therm-a-Rest NeoAir / Used with permission from Cascade Designs / Author unknown
HOW DOES IT WORK?
Simple, light and compact, the standard air mattress confines air between 2 pieces of airtight fabric.
However, this simple design fails to insulate your body because of convective heat transfer. Basic physics: any system tends to an equilibrium. The large spaces inside an air mattress allow the air to circulate freely, to transfer body heat to the ground and to reduce the difference in temperatures. Quickly, the entire system cools down to a balanced state. In other words, you freeze.
Open-cell foam added inside the classical Therm-a-Rest self-inflating mattress had slowed down air movement and thus reduced convective heat loss and increased the insulation value of the pad. The air mattress became useable outdoors, but the weight and bulk had increased as well.
Is there a way to replace the foam with something else? Something lighter and more compact? Have the cake and eat it too? The Therm-a-Rest team at Cascade Designs thinks so. They have removed the foam and added several features to mitigate heat transfer:
"Reflective Barrier": a thin layer of special material that reduces thermal radiation. Placed in the middle of the pad, this layer reflects body heat back to you and cold back to the ground in a similar way a space blanket does.
"Triangular Core Matrix": a multitude of airtight fabric cells that reduces air movement and thus convective heat loss.
Result: an R-value of 2,5!
Photo: Therm-a-Rest NeoAir / Used with permission from Cascade Designs / Author unknown
SPECIFICATIONS AND FEATURES
Manufacturer: Therm-a-Rest, a Cascade Designs' brand (thermarest.com)
Model: NeoAir
Year: 2009
Materials: airtight fabric (30 d high tenacity nylon ripstop), reflective barrier material, plastic valve
R-value: 2,5
Thickness: 6,3 cm (2.5 in)
Main features: very light and compact air mattress that manages to insulate to an R-value of 2,5



Size
Dimensions
Weight
Small:
51 x 119 cm
(20 x 47 in)
260 g (9 oz)
Medium:
51 x 168 cm
(20 x 66 in)
370 g (13 oz)
Regular:
51 x 183 cm
(20 x 72 in)
410 g (14 oz)
Large:
63 x 196 cm
(25 x 77 in)
550 g (1 lb 3 oz)
AVAILABILITY
Should be in stores worldwide in spring 2009.
THERM-A-REST NEOAIR VS THERM-A-REST PROLITE 3 COMPARISON
Naturally, my first reaction is to compare the new 3-season sleeping pad to the current ProLite 3 (2008).
| | Therm-a-Rest ProLite 3 | Therm-a-Rest NeoAir |
| --- | --- | --- |
| Size: | regular (full-length) | regular (full-length) |
| Dimensions: | 51 x 183 cm (20 x 72 in) | 51 x 183 cm (20 x 72 in) |
| Thickness: | 2,5 cm (1 in) | 6,3 cm (2.5 in) |
| Weight: | 570 g (20 oz) | 410 g (14 oz) |
| R-value: | 2,3 | 2,5 |
MY QUESTIONS AND DOUBTS
I am skeptical about 2 things:
// Insulation
The mat looked great at the Cascade Designs' booth during the European Outdoor 2008 show in Friedrichshafen. It looks great on paper. But how well does it perform in real life?
// Comfort
I've never enjoyed sleeping on traditional air mattresses "for guests". The Therm-a-Rest NeoAir claims that the Triangular Core Matrix tightens up the pad to reduce its instability… But what about that "hard as air" feel?
Photo: Therm-a-Rest NeoAir / Used with permission from Cascade Designs / Author unknown
I am less concerned about air-leaks and punctures. My collection of Therm-a-Rest pads has never had a single problem. Maybe because I use a puncture resistant, 55 g / m2 Tyvek ground sheet.
ALTERNATIVES
Therm-a-Rest ProLite (redesigned for spring 2009)
Bozeman Mountain Works TorsoLite
Pacific Outdoor Equipment AO Lite
Sab / 2008-08-07 23:03
Sounds very interesting to me!
I once asked TNF about their AirCore insulated jacket technology and they said air chambers under around 15mm thick didn't suffer convective heat transfer.
I don't mind the stiffness of air beds & swore never to buy another ThermaRest foam core air mattress after repeated de-lamination problems.
Cascade Designs generally test their new gear as much as they can before it hits the market.
The NeoAir has gone through 5 years of research and development. The Therm-a-Rest team is under real pressure to invent something new and great. Their patents on the self-inflating mattress have expired, leading to market share erosion.
We'll see how this new pad performs.
But could you tell me more about those "repeated de-lamination problems"?
After using Thermarest for more than 20 years I only had delamination problem with the very first verison of their "Swiss cheese" mat (perforated foam, purplish blue color year 1999 circa). Replaced under warranty. I also had reports of other users having that problem but on that particular model and year only. Never had any other Thermarest delaminate (owned about 12) but had many problems with other brands. Eager to try the Neo Air.
Brad Orndorff / 2009-08-01 21:50
The neo air is the greatest technicle achievement in ground pads since well, groundpads. Yes it is costly and yes it could include a stuff sac and repair kit for the price but "ain`t that America". The stuff sac would probably be too small to reroll it back into. Roll it the way you like it to suit your pack and purchase one from wall-mart or make or have made for you. If the air leaks over night in home trials send it back, try another. I suggest a possible reason for much of this overnight loss of pressure is a reasonable, explicable thing. When I first inflated mine it too lost some pressure overnight. As an experiment in the morning I re-inflated it and went to work, came home after 10 hrs. and it was tighter than when I left. I can only summise that when I first inflated it the room was warm and my breath was hot. As the evening waned into night and morning came the temp. dropped significantly aided by my air conditioner set at an icy-cool level. Then in the morn. it only took a few puffs to fill. With the air cond. off over 10 hrs. The temp. rose dramatically and so did the pressure. I think they call those occurences "science". Thanks and enjoy.
ABOUT ANATOLY IVANOV / PROSE
Find out more about my posting and comments policy, as well as publishing frequency and copyright issues.