WIND-RESISTANT? WHAT'S THAT FOR?
Unless it's pouring rain, a windshirt is an extremely versatile garment.
Running generates a lot of heat. Slowly, it radiates and evaporates. Or quickly blows away with speed and wind. Which is great if the weather's hot. But not so pleasant if the wind freezes you solid… 20 K from home.
A windshirt protects from wind chill and is much more breathable than a rain jacket. When it gets too cold for just a t-shirt, pull on a windshirt and regulate your temperature as needed.
WHAT'S NEW AND INTERESTING?
Unless you run in -10° C and below, the sleeves of a typical windshirt will tend to overheat in the long run. I generally start my warm-up with the sleeves on. I roll them up 15 minutes later as I increase my pace to cruising speed.
So why not cut the sleeves? A vest skips to the bare minimum. Less weight, less bulk, more ventilation.
Yes, you may feel cold for the first 20 minutes, but you'll be just perfect afterwards.
OK, and who goes bold with scissors and actually does it? The North Face?! Unbelievable!
And they add mesh panels on the back as well! Front: wind-protected. Back: ventilated.
Totally minimal. Totally functional.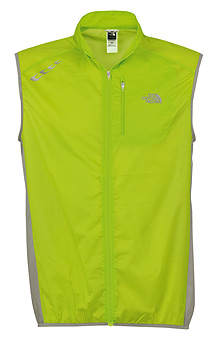 Photo: The North Face Hydrogen Vest / Used with permission from The North Face / Author: Nevio
SPECIFICATIONS AND FEATURES
Manufacturer: The North Face (thenorthface.com)
Model: Hydrogen Vest
Year: 2009
Materials: unbranded "ultralight ripstop nylon fabric", mesh panels, elastic-bound armholes and hem
Main features: windshirt without sleeves or hood, mesh ventilation… a zippered Napoleon pocket
Men's model: yes
Men's colors: molten red & metallic silver; green lantern & metallic silver; black
Women's model: yes
Women's colors: white & metallic silver; black
AVAILABILITY
Should be in stores around spring 2009. I wonder who will be brave enough to stock such an item though!
MY QUESTIONS AND DOUBTS
// Fabric
OK, what does "ultralight ripstop nylon fabric" mean? Pertex Quantum is a tried and tested ultralight ripstop nylon fabric that works great and weighs nothing. So I'll have to see how The North Face unnamed variant performs.
// Fit
Armpit chaffing in the long run?
// Versatility
I suspect a wind-resistant vest will be mostly useable in autumn and spring.
ALTERNATIVES
// Marmot Flexion Jacket 2009
A new Marmot windshirt with sleeves that unzip into a vest!
ABOUT ANATOLY IVANOV / PROSE
Find out more about my posting and comments policy, as well as publishing frequency and copyright issues.